In the evenings, if you are very quiet and very lucky, you might even hear the strange grumbling sound of the island's rare Barking Deer. Today it takes bus riders nearly an hour to reach the Big Buddha from Silvermine Bay, but in 2005 there will be a spectacular cable car, with gondolas carrying up to 20 people each to the cool and airy monastery in just 20 minutes.
Aside from Lantau, another island well worth visiting is Cheung Chau.
This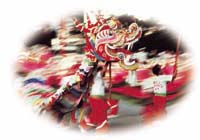 little dumbbell shaped charmer teems with more than 30,000 islanders, including many expatriate Westerners who prefer the sedate island life to that of the big city. There are no cars on Cheung Chau, because there are no real roads, only a vast network of footpaths and alleyways. Cheung Chau, like nearby Lamma Island, is also famed for its seafood restaurants.
Hong Kong has a nightlife all its own. The range is vast and caters to many unique tastes, from the discos and bars for energetic "twenty-somethings" to the more refined cafes and bistros for the older set. There are 2 prime districts, Lan Kwai Fong and Soho ("south of Hollywood" Road). These two areas are filled with trendy and stylish restaurants, offering a range of foods from Indian and Russian to Japanese and Californian.

But you don't even have to dine here to enjoy yourself, it's just as much fun to stroll the streets on sultry evenings and people-watch to your heart's content. This is where you'll see the true international mix and flavor of Hong Kong's cultural cocktail - where young local Chinese easily mix with American, British, Australian, Korean or Filipino residents, as well as meet visiting travelers from Rome to Rio.
Make sure to set aside a day to visit Hong Kong's famous racetracks.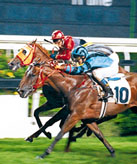 The 150-year-old Happy Valley Race Course on Hong Kong Island, and the striking Sha Tin Race Course in the New Territories, are reached via a comfortable air- conditioned train from Central District. You will not experience horse racing such as this anywhere else in the world. The racing season runs from September until June, and the Hong Kong Tourist Association offers evening tours that include dinner.
After dark, head for a favorite part of old Hong Kong, Temple Street, where the night market is a collection of a hundred outdoor stalls selling all manner of goods from garish costume jewelry and cut-price clothing, to watches and blue jeans, and posters of pouting teen-age pop stars. There are also cooked food stalls for the adventurous gourmet, as well as blind fortunetellers and even impromptu Cantonese opera performances. We hope you enjoy your stay in Hong Kong.