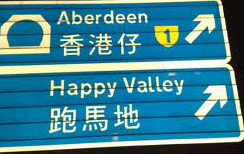 When visiting Happy Valley Racecourse there are plenty of things to do. There is of course horse racing, you can enjoy seeing the beautiful horses, colorful silks and races. Here is a list of things not to miss, especially if you are new to Happy Valley.

Parade Ring
This is the best place to see horses up close
before the race starts.
Here you can inspect each horse and even take pictures if you desire.
The parade ring at Happy Valley is state of the art. It features 4 balconies which seat 1,400 spectators. It also features a retractable roof so you can see the horses well, whether it rains or not.
The Beer Garden
The Beer Garden is located in the forecourt and offers an excellent view of the races. A popular place to socialize and drink ice cold beers during the races. The beer garden offers a friendly outside feel and includes Barbeque Foods
that can be purchased if you get hungry.
A great place to meet and mingle at Happy Valley.