Free Tips - Entries - Results - Calendar - Free PP's - HK City - Live Audio -
---
Jockey Championship - Racecourse - Tourist Info - Things To See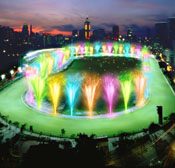 Happy Valley Racecourse 跑馬地馬場
2 Sports Rd., Happy Valley, Hong Kong Island
(852) 2895 1523 or (852) 2966 8111

Races usually held from September - July on Wednesday Evenings. (sometimes on weekends)

First race normally starts at 7:30pm. Admission: HK$10
Sorry, no one under 18 permitted in the racecourse.

Entry via Wong Nai Chung Road. Take the Happy Valley tram, which runs east-west along Hong Kong Island, to the end of the line and walk across the road to the track.

Alternatively, catch the public railway system (the MTR) to Causeway Bay and follow the signs to the racecourse. Taxis from Central cost about $HK40.
More information here for tourists, how to get to Happy Valley.
---
Wagering is a favorite pastime and whether you enjoy betting on horse races or playing online casino games, there are many options for all types of players. These can be accessed online, providing you with flexibility and convenience, allowing you to wager at any time of the day or night. Visit Gambling Land to better understand the options that are available in sports books and online casinos.

---
Advertise - Link To Us - Links