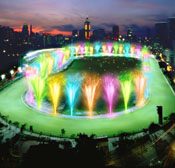 Happy Valley Racecourse 跑馬地馬場
2 Sports Rd., Happy Valley, Hong Kong Island
(852) 2895 1523 or (852) 2966 8111

Races usually held from September - July on Wednesday Evenings. (sometimes on weekends)

First race normally starts at 7:30pm. Admission: HK$10
Sorry, no one under 18 permitted in the racecourse.

Entry via Wong Nai Chung Road. Take the Happy Valley tram, which runs east-west along Hong Kong Island, to the end of the line and walk across the road to the track.

Alternatively, catch the public railway system (the MTR) to Causeway Bay and follow the signs to the racecourse. Taxis from Central cost about $HK40.