Every Wednesday night a floodlit oasis of green suddenly appears in the heart of Hong Kong Island, this is Happy Valley Racecourse. Horse racing "the Sport of Kings", is the only legal form of gambling in Hong Kong. Here racing is embraced with unbridled fervor.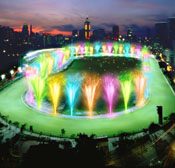 There is another racecourse in Sha Tin for weekend meets, but nothing beats the adrenaline-charged atmosphere of Happy Valley. With its tight tracks and high stands, it resembles a Roman amphitheater. As the travel writer Jan Morris once wrote, "Happy Valley on race day is a bitter, brilliant, grasping place."

The tote on a single night at Happy Valley Racecourse is often equivalent to an entire year's betting at racetracks in the West. With westerners now having access to simulcast betting, betting pools are larger than ever before. Race days are ritual like in Hong Kong, where nearly everyone gets involved in one form or another. Gambling on the horses is serious business in Hong Kong, with thousands flocking to the racecourse every Wednesday night.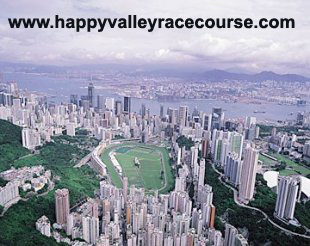 Lucky locals overlooking the racecourse, host parties on their balconies while looking down on the action. Night races are particularly interesting, with bright lights, a frantic atmosphere and big winning payouts.
An enormous 20 x 5.8 meter video screen surrounding the racecourse displays the races in progress, as well as all racing forms, types of wagers and other relevant details.
Hong Kong's favorite sport is making money, or at least trying to on the races. Billions are spent every year at the Happy Valley Racecourse, as large bettors are attracted to the high class racing. Hong Kong is also known for large fields, the average field size is currently 12.5 starters per race.